Published on August 5, 2014 by Sonya's Spotlight
KeKe Palmer - Photo by Brad Barket via Getty Images
Associated Press | By MARK KENNEDY
NEW YORK (AP) — Like many girls, actress and singer Keke Palmer grew up dreaming of meeting a prince who would whisk her away to a life of love and happiness. In her case, it's going to happen – eight shows a week on Broadway.
Palmer said she'll be stepping into the title role in "Rodgers & Hammerstein's Cinderella" starting Sept. 9 at the Broadway Theatre. She will become the first African-American to play the part on the Great White Way.
"It's honestly one of those things that I can't believe is really happening," Palmer said by phone Friday from her Los Angeles home. "I'm very excited. Very excited and nervous as well – a bunch of feelings all at once."
Palmer, who will be making her professional stage debut, will rely on a host of skills she's developed from film – including "Barbershop 2: Back in Business" and "Akeelah and the Bee" – her BET talk show, "Just Keke," and on TV in Showtime's "Masters of Sex." Her albums include the 2007 CD "So Uncool" and a self-titled 2012 EP.
One of Palmer's heroines growing up was the singer and actress Brandy Norwood, who played Cinderella in a 1997 TV movie opposite Whitney Houston. "I feel like the reason I'm able to do this is definitely because Brandy did it on TV," Palmer said. "In me doing this, it shows everybody that everything is possible."
The producers of "Rodgers & Hammerstein's Cinderella" have always been colorblind about casting the show, which Actors Equity honored for excellence in diversity on Broadway last year.
"We've always just cast the best people for the parts. Sometimes they're African-American, sometimes they're Latino, sometimes Asian-American," Goodman said. "It's wonderful when it works out and we've finally found our Cinderella."
The traditional fairy tale has been given a sly and witty makeover by Douglas Carter Beane, who updated the story for a new generation. The songs by Richard Rodgers and Oscar Hammerstein II include "In My Own Little Corner," "Impossible/It's Possible" and "Do I Love You Because You're Beautiful?"
"Every girl's dream is that story so to be able to play is going to be a dream come true for me. Not to mention that Stuart Weitzman made the glass slippers I'll be wearing," Palmer said, laughing.
Winning the role of Cinderella is the latest breakthrough for African-Americans on Broadway, joining Norm Lewis as the first black man to play the title role in "The Phantom of the Opera," Nikki M. James playing Eponine in "Les Miserables," James Monroe Iglehart as the manic Genie in "Aladdin" and Condola Rashad as Juliet opposite Orlando Bloom's Romeo.
"Look around America. Broadway is a little behind America," Goodman said.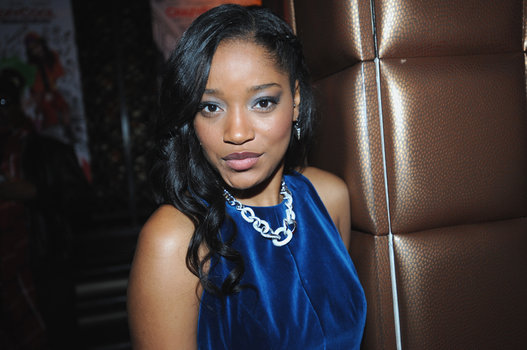 Source: http://www.huffingtonpost.com/2014/08/04/keke-palmer-become-broadway-black-cinderella_n_5648953.html#